Regulations for power supply and battery capacities for fire alarm systems is controlled by EN54-4. There you can find that an empty battery shall be possible to recharge to 80 % of its capacity in 24 hours and that it shall be fully recharged within another 48 hours.
The baseline for calculating the size of the batteries can be found in the guidelines in TS EN54-14 where they suggest a battery backup time of 24 or 72 hours in standby and 30 minutes in alarm mode. The last input to determine the size of the batteries is the power needed for the loop components and the control panels with its accessories in the installation.
Once the calculation is done and the batteries and power supply are selected, the design is completed, but what to do when you need to expand the installation because the business is growing and a new building is needed?
Several manufacturers suggest that you should buy a couple of new loop cards and start running new loop cables from the existing panel to the new building. What do you have to remember here is that new loops need more power and back up capacity and maybe you will need to increase the battery size, buy a new power supply and also may need to change housing or buy an external battery housing to make room for the increased capacity. This solution also involves that you waste a lot of active loop length, running loop cables between the houses before you can start using the loop for its purpose.
Panasonic's exclusive decentralization solution with Com Loop Expander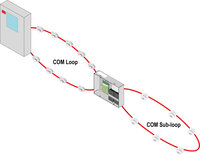 Panasonic has a different philosophy here: decentralization for a perfectly balanced flexibility. Each EBL512 G3 control panel has 4 loops and a fully matched power supply and a housing designed for the battery size needed. Available with MMI for full flexibility, or without for the best economy; mix them as you like. Whenever the facility is growing, you take a new perfectly matched control panel and just install it where you need it. Hereby you always get matched equipment and can utilize the loop power in the most efficient way. The beauty with this solution is that you can go on for a very long time always placing the new control panel nearest to where you shall install new detectors and then only connect it to the redundant network of control panels, all of them belonging to the same system.
Do you only need one or two extra loops? Use the unique and innovative Panasonic Com Loop Expander! This is an expansion board that is mounted in an addressable power supply, so that you have full freedom to install it wherever you like on an existing loop. Since the power supply already has charging electronics and place for back up batteries, this is the most flexible solution available in the market.
Contact us for further information. We are willing to listen to you!
More information