Since 1995, Panasonic EBL512 fire alarm systems are installed in Warsaw metro when M1 line was completed with 21 stations. Warsaw metro's M2 line Central part with 7 stations was completed in 2015. Since then, various M2 extensions in East and West with 3+3 stations were finished in 2020. Now additional 5 stations on the West side of M2 is under construction with expected opening in 2022. It is also planned for 2024 to build 3 more stations plus technical and parking station for the East side.
Challenges
The complexity of the infrastructure like the long distances to cover together with the ongoing expansions over time, require an intelligent and flexible fire alarm system that overcomes the difficulties of each type of environment.
Panasonic fire alarm solutions
The fire alarm system in the completed parts of M2 consists of totally 49 units of EBL512 G3 control panels and more than 10.000 loop units. All control units are connected in two redundant optical fiber networks and finally the system is also connected with the Metro Main Dispatcher Room Located 18 km away from the center of the M2 line.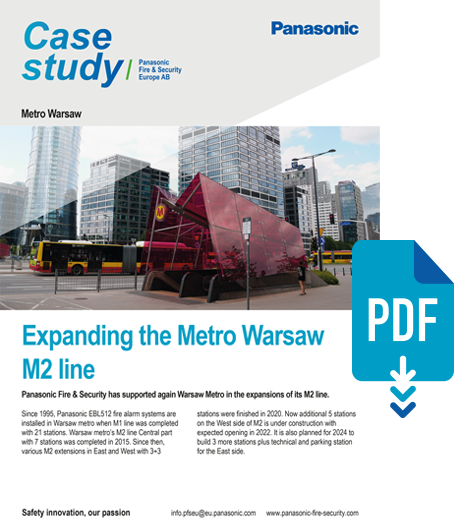 Additional fire protection accessories like fire ventilation, hatches, fire doors, smoke curtains etc. are controlled directly by the EBL system via I/O control modules and expansion board. The fire controls in the Metro are quite complicated and for example to remove smoke from one station, the fire alarm system starts up the exhaust ventilation on this station and air inlet/exhaust on the neighbour stations or on ventilation between the stations. Some controls are made with delay time, some without it.
Connection between the fire alarm systems and the building management system (BMS) is made by a two-way Panasonic EBLnet communication system on each station. It means that the fire alarm system can be controlled from the BMS system; fire and fault acknowledge, disable and re-enable zones, alarm points, controls, check sensors value and so on.
The Panasonic fire alarm system installed in Warsaw metro is a modern, flexible system for difficult objects, where information is passing a long distance, carrying out complicated controls and the detectors choose their sensitivity level themselves. Panasonic EBL512 G3 perfectly protects Warsaw M2 metro line together with a custom BMS system.
Download here the case study, to keep it handy.