Panasonic launches the Display Unit 3.0 with new features and functionalities to offer a real versatile solution with the highest security possible.
Redundant connections for the highest security
Now, the connection between the control unit and the display unit is fully redundant, both the 24V DC power supply and the RS485 connection.
General control panel mode
The new version 3.0 introduces the general control panel providing three new and powerful functions that simplify the usage of the system and eliminate the need for expensive and complicated control cabinets. You can program up to eight controls in each display unit as well as configure and mix them as you wish.
In addition to the three traditional functions, the new general control panel comes with three new ones that allow a higher versatility: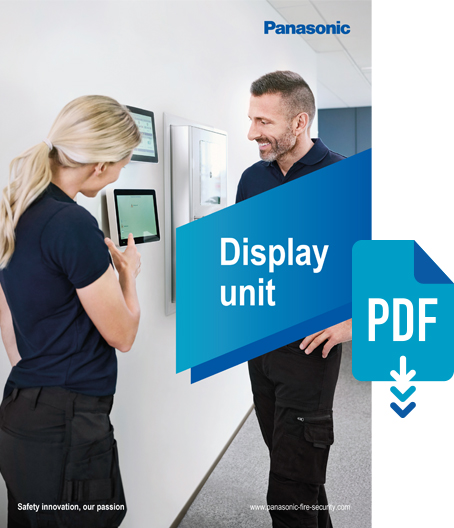 Fan/damper control monitors all types of fans: air supply, smoke exhaust and stair pressurization fans. Connected to an I/O unit, they are both controlled and monitored for faults and phase faults.

Input control allows you to remotely change state of any connected unit to test the emergency lights, lock a door, activate the light in the car park or any other action you may require to be done.

Evacuation control allows the fire brigade or a building officer, to make a manual evacuation of a building or parts.
Download here the new Display Unit 3.0 brochure where you will find out all the possibilities that this new generation can offer showing user scenario examples.