Panasonic has launched EBLOne, the control unit that sets a new standard in one-loop fire detection systems. With its exclusive modern and discreet design, combined with the most intuitive user interface, it is sure to impress architects and end-users while making the installation and maintenance of fire alarm systems easier than ever before.
Innovative elegance and security, anywhere
EBLOne control unit is the ideal choice for small and medium businesses requiring a one-loop fire alarm system and state-of-the-art fire alarm technology. Its compact size and contemporary design make it suitable for a variety of environments, from small industries and kindergartens to restaurants and even the most modern and elegant hotels.
Unique user experience, unparalleled
EBLOne presents the most intuitive user interface built around a color touch screen with integrated and symbol-based status LEDs, providing a unique and complete user experience for all CIE operations. With its color touch display, users can instantly get an overview of the fire alarm system's status. The alarm presentation unit also enables fire brigades to get full information and reset and silence alarm devices. EBLOne offers an easy-to-navigate app-based menu system, featuring a clear path to all functions at the top for efficient task completion. Furthermore, the exclusive graphic LCD interface eliminates the need for a PC, revolutionizing commissioning and taking it to the next level of ease
Easy, every step of the way
EBLOne stands out for its ease of use, from the very first moment of installation to maintenance, thanks to its optimized build-up in just three main parts: a robust metal chassis with integrated cable guidance, an electronics module that can be easily assembled and disassembled, and a lightweight front cover made of PC/ABS with high flammability.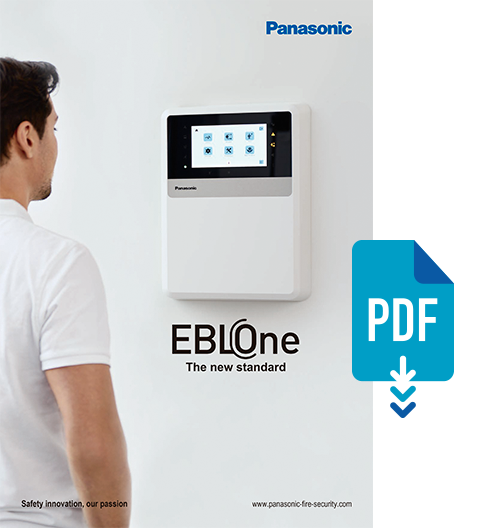 EBLOne is a completely new Panasonic addressable control unit but still feels familiar, being fully compatible with all state-of-the-art Panasonic loop units and the cutting-edge EBLWin software.
For maximum comfort, EBLOne now offers two fast and easy commissioning options. Firstly, Panasonic's traditional EBLWin software with auto addressing function, and secondly, the brand-new Auto set up wizard which allows commissioning without the need for a PC. The wizard-based graphical tool guides you through the process and allows you to set up users and passwords, assign zones and addresses, and add alarm texts.
Download the EBLOne brochure to learn more about this exclusive innovation from Panasonic that will revolutionize the market of one-loop fire detection systems.