Since 2010, in Norway EN54 approved fire equipment is required in all new apartment buildings with more than 2 floors or with an elevator, but also in some existing buildings, after risk assessment.Both inside each apartment as well as in common areas. For the highest security posible, the fire alarm system can be connected to the fire brigade for fast rescue.
Background
In the eastern part of Oslo was four 14 floor high rise buildings from 1961, refurbished and modernized in 2021 and in connection to that, an EN54 approved fire alarm system was determined as required, to protect the tenants.
The buildings didn't have any previous fire alarm system and no infrastructure for hidden cabling in the apartments, so to save money it was decided to look for a wireless system, that could be combined with wired components for the common areas. Additionally, the system should offer technology to minimise false alarms. And all of this to a competitive price, both in terms of initial investment but also for future service and maintenance costs.
Panasonic fire alarm solution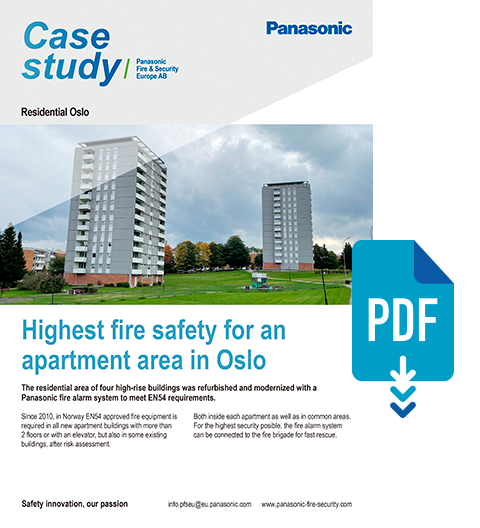 The Panasonic fire alarm system could offer a top reliability with state-of-the-art detection technology as well as wireless local alert acknowledge units (LAAU), making it possible for the tenant to stop any unnecessary alarm by just pushing a button and ventilate the apartment for a few minutes.
The installation was very fast and therefore also cost effective, thanks to limited cabling and very simple configuration tools. The batteries last for many years and the system can easily be tested by one technician, thanks to an innovative smartphone-based service tool. In all it means that the high requirements on reliability and economy, could be met by the EBL system from Panasonic. As a bonus, the tenants appreciate the discrete and effective components in their apartments.
Here you can download the case study to have it always with you.