Images source: www.stadion.fi
Panasonic has contributed to bring the historic stadium's fire safety system up to the highest standards during its latest major renovation.
Challenges
The comprehensive renovation transformed the stadium into an event arena of world-class standards, with the addition of underground facilities for athletes and plenty of covered seats, among other demands. This involved the development of many fire safety, rescue and evacuation plans with the participation of numerous different contractors.
Panasonic fire alarm solutions
The key to the success of this project was the selection of the optimal combination of different detection technologies: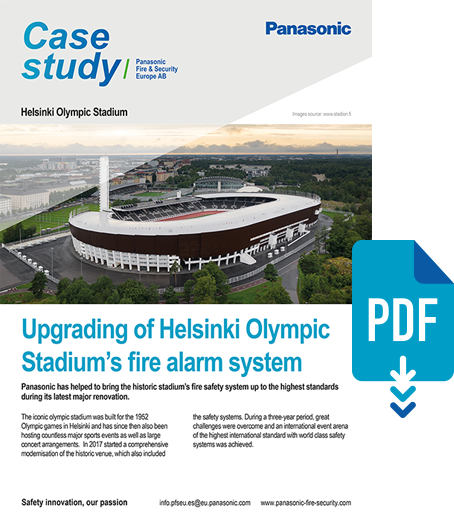 Thus, hundreds of Panasonic I/O control modules made it easy the integration of other safety systems such as extinguishing system, voice evacuation, fire doors and elevators.
Download here case study to see Panasonic's whole fire alarm solution for this historical venue.